Hanak Wet Barbless Hooks for fly tying - H200BL, H230BL, H250BL, H260BL, H270BL, H280BL, H290BL
25 hooks per pack
Hanak Barbless Wet Fly Hooks for Stillwater & Wet, Nymph & Wet, Bead Heads and Lake Fly Hooks
Quick Comparison
H200 - strong, long shank
H230 - wide gape, bent-in tip
H250 - very wide gape, subtle bronze
H260 - extra strong - short shank, wave point
H270 - short shank, wave point
H280 - long shank, wave point
H290  - long shank, bronze

H200BL
Extra strong, long shank
Extra strong hook for wet flies and bead heads, long shank, ideal for use in combination with Tungsten DROP
Colour: Black Nickel
Sizes: 8-16

H230BL
Reinforced version of the  H 130 BL with a wide gape and slightly bent in tip.Colour: Black Nickel
Sizes: 8-18

H250BL
Best lake hook of all time. Solid and super sharp hooks with extremely wide gape. Can be used on wet flies, small nymphs or on dry fly fishing for trophy trout.
Colour: Subtle Bronze
Sizes 6, 8, 10,12,14, 16, 18


H260BL
Extra strong hook for wet flies and bead heads, excellent for fishing with blobs and booby flies, irreplaceable for lake and river fly fishing competitions.
Colour: Black Nickel
Sizes: 8-16

H270BL
Revolutionary wave point hook, shaped for lake fly fishing fishing with wet flies.
Short shank.
Colour: Black Nickel
Sizes: 8-16

H280BL
Revolutionary wave point hook, long shank. Designed for lake fly fishing with wet flies.
Long shank.
Colour: Black Nickel
Sizes: 8-16

H290BL
Universal hook.
Long shank for wet flies, dry flies and bead heads, ideal for use in combination with tungsten DROP +.
Colour: bronze
Sizes: 8-16
Hanak Wet Barbless Hooks are the result of long-term development in cooperation with leading competition flyfishermen.
Exceptional shape, needle tip and the use of high-carbon steel to increase success.
All are barbless with a special elongated needle point
See the Hanak barbless Nymph Hooks
Wave point
The special design of this hook was developed in cooperation with top Czech competitors. The extra-long and sharp point is bent outwards and increases success rates of strikes, and helps keep fish on the barbless hook.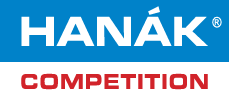 Hanak Hooks are renowned for their exceptional quality and performance, making them a preferred choice among anglers worldwide. With a rich history dating back to 1870, Hanak has established itself as a leading manufacturer of fishing hooks, catering to the needs of fly fishermen, competition anglers, and recreational fishing enthusiasts.
Crafted with precision and expertise, Hanak Hooks are designed to meet the demands of various fishing techniques and conditions. They are made from high-quality carbon steel, ensuring strength, durability, and resistance to corrosion. The hooks undergo a meticulous production process that involves cutting-edge technology and rigorous quality control measures, resulting in hooks that are consistent in shape, size, and sharpness.
Hanak offers a wide range of hook models, each tailored to specific fishing applications. Whether you're targeting trout in a mountain stream or pursuing trophy fish in saltwater, Hanak has a hook to suit your needs. Their extensive lineup includes dry fly hooks, nymph hooks, jig hooks, streamer hooks, and saltwater hooks, among others. Each hook model is designed with specific features to enhance its performance, such as the shape of the bend, the length of the shank, and the type of point.
Anglers who have used Hanak Hooks praise their exceptional sharpness, which ensures reliable hook sets and minimizes fish loss. The barb design on these hooks is carefully crafted to provide a balance between secure hookups and easy hook removal, promoting catch-and-release practices.
Hanak Hooks have gained recognition and trust from professional anglers around the globe. Their commitment to quality and innovation has made them a preferred choice among anglers seeking reliable and effective fishing hooks. Whether you're a seasoned angler or a beginner, Hanak Hooks offer the reliability and performance you need to make your fishing experience successful and enjoyable.